Architectural Photography as Medium of (Re)presentation and Construction of Architecture
2019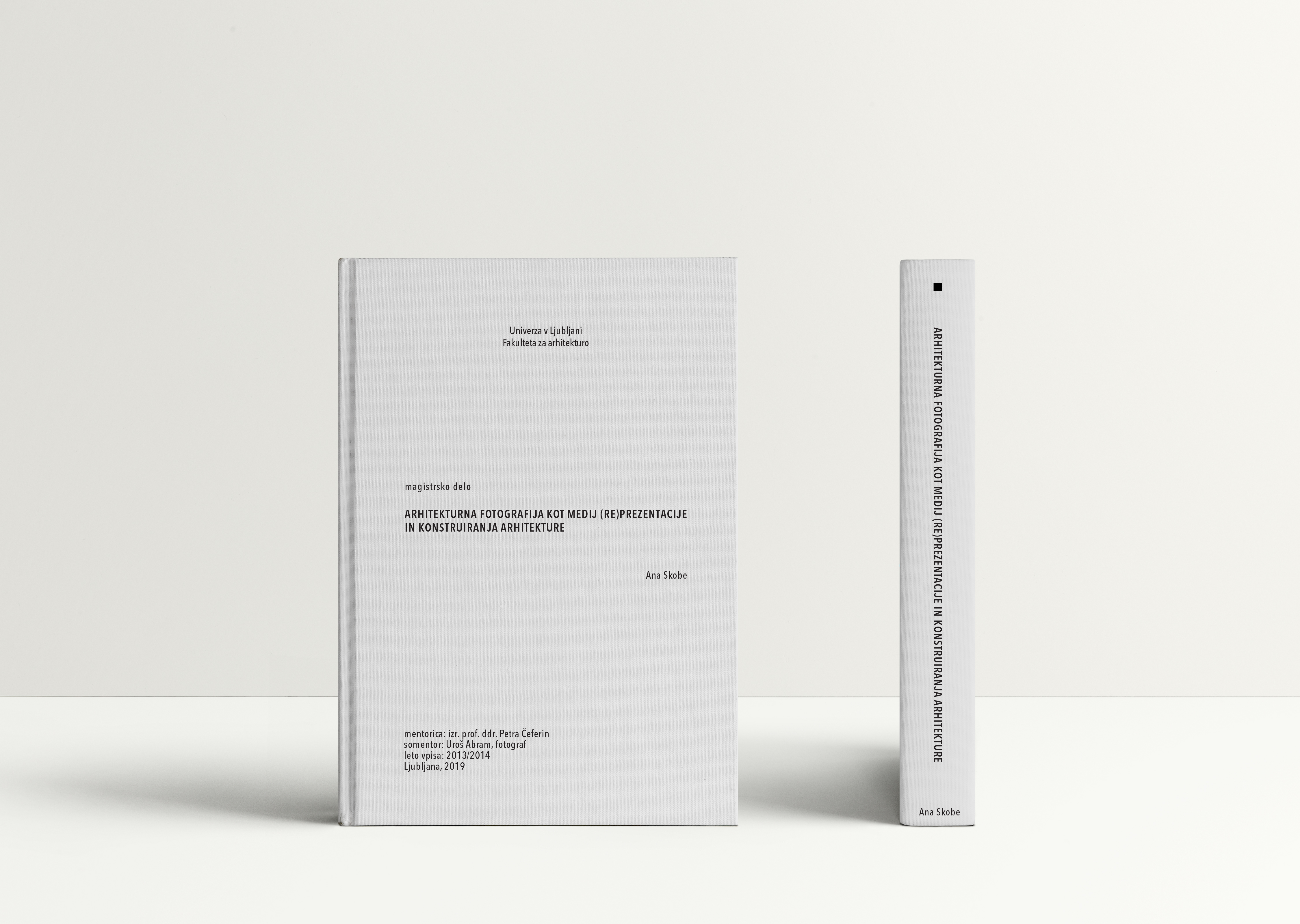 +
ABSTRACT

The present book discusses the role and the meaning of architectural photography in architecture. The aim is to investigate and outline the complex relationship between architecture and architectural photography in order to demonstrate a subtle, but important joint between them. In the text, I call it architectural joint, which is actually the idea itself – an idea that has the power to shape our understanding of architecture and to open new themes for its discussion and material production.

The central hypothesis and the starting point of this work is that architectural photography is not simply a representation of some built, concrete architecture, which functions as photography's referent, rather, insofar as it is successful, it works also as a medium of architecture's presentation; it can render architecture present. Indeed, with the use of techniques that are immanent to the photographic medium, architectural photography can achieve even more: it can become the medium of architectural construction. Through examples of work of some well-known photographers and my own photographic series I explored, explained and argued three aspects of constructing the architectural joint: photography as a manipulation of reality, photography as a construction of architecture and photography as an emanation of directness. At the same time, I tried to define the possibilities of photographer's practice nowadays, which at first glance mistakenly seems to offer a limited universe of ideas and images that are constantly repeating, but never break through or show things in their openness or possible redefinition.

Key words: architecture, architectural photography, (re)presentation, construction, architectural joint

+


CONTENT


/INTRODUCTION
/ESTABLISHMENT AND DEVELOPMENT OF ARCHITECTURAL PHOTOGRAPHY
The invention and inventors of photography
Between documentation and artistic creation
Medium of photography gains independence
/PHOTOGRAPHY AND (RE)PRESENTATION OF ARCHITECTURE
OBJECTIVITY AND SUBJECTIVITY OF ARCHITECTURAL PHOTOGRAPHY
Mirrors and windows
Objectively and impartiality
Camera as a mechanical eye
The photographer's view of the world
/PHOTOGRAPHY AS MEDIUM OF CONSTRUCTION OF ARCHITECTURE
MANIPULATION OF REALITY
Julius Shulman / Two images, two stories
Le Corbusier / In the world of ideas
Finnish modern architectural photography
Luis Barragán / Gardens of the stony place
CONSTRUCTION OF ARCHITECTURE
Bas Princen / About other spaces
Bernd and Hilla Becher / Poetics of the industrial world
Andreas Gursky / Monument to capitalism
EMANATION OF DIRECTNESS
James Casebere / Paper architecture
Hiroshi Sugimoto / Timelessness of memory
Thomas Ruff / Mies in motion
/INSTEAD OF CONCLUSION
/AUTHOR'S PHOTOGRAPHIC PROJECT
/NOTES
/SOURCES AND LITERATURE


+


FRAGMENTS FROM THE BOOK

"The architectural object is constantly moving between the original, which is the building itself, and the copy, its image, between the presence in the physical and the representation in the virtual world. Although the space of representation is different from the space of architecture - it is static, in contrast to architecture, which exists only through the dynamics of perception, and two-dimensional, in contrast to architecture, which has a span of multidimensional - it constantly complements, reconstructs and redefines it." (from chapter Photography and (re)presentation of architecture)
+ + +
"Observing and experiencing architecture is not static, but always in a dynamic human-space-time relationship."



"Colomina describes photography as something that is outside the logic of 'realism', as it does not represent reality but re-produces it (Colomina, 1996). In other words, a photographic image is not a mirror that reflects the world, and it is not a window through which we look at it. It is something more, it generates, constructs, and duplicates this world in its own - different and specific - way, with a specific message that the author wants to take back into it. I could even say that photography is the mechanism that makes a difference. The difference between reality and new reality." (from chapter Photography as medium of construction of architecture)
"…In my opinion Julius Shulman managed to present a specific atmosphere as a connecting element between man and architecture, between subject and object that is simultaneously present in the space and in ourselves, the spectators. He was one of the first photographers to show an understanding that architecture for people begins only with people, by their using and changing of given conditions, at the moment, when space is not only inhabited and used, but when that same space is changing ourselves. Dwelling thus becomes a part of architecture, not as an element you can isolate and separate from everything else, but as part of a whole, a space that changes, directs and shapes the man. In other words, he was aware that architecture merely generates space, but life is what materializes it."
(from subchapter Julius Shulman / Two images, two stories)
"However, in the work of Bernd and Hilla Becher mere utilitarian industrial objects through photographs and their editing into series become more than depicted structures. I dare say that they express components of aesthetics and poetics, which Hilla articulates well with the term 'tonal music'.

Industrial structures acquire the qualities of architecture; photographic images present them as architectural or, according to Frampton, even as tectonic objects. Once again, we are witnessing the construction of architecture, in which representation becomes a presentation of architecture itself." (from subchapter Bernd and Hilla Becher / Poetics of the industrial world)
"In series of photographs, simply called Architecture Sugimoto reveals many things that remain invisible to the naked eye. Through poetic images, he repeatedly transforms the abstract ideas of time, duration and passing, finding beauty not in the beautification of reality, but in the creation of imperfections.
The buildings remain recognizable despite the blur, which shows us that exceptional architecture survives no matter how it is portrayed." (from subchapter Hiroshi Sugimoto / Timelessness of memory)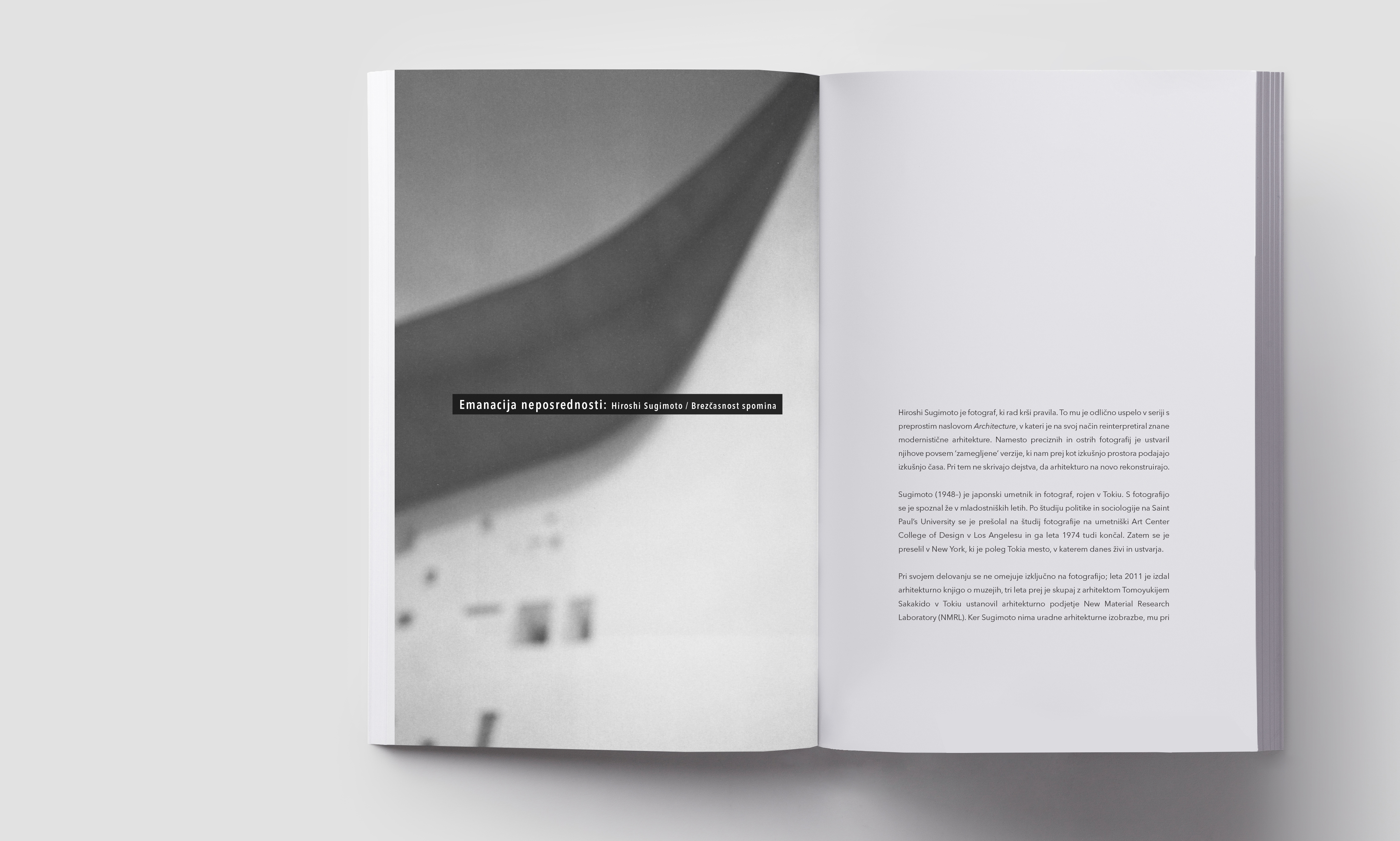 "… [photography] is photographer's projection of a world into a world that cannot be replaced by reality or the truth…"

"There are still photographs which manage to shake and transcend frames and categories through which we interpret and understand the world. These are photos that are not necessarily the latest, most spectacular, or 'most different'; which are defined not only by appearance and surface but also not merely by message and content. They are the ones which best manage to respond to the conditions of the present time and space; which trigger us to rethink architectural objects over and over again; which enhance the experience of architecture and our sense of being in the world by highlighting the meanings of things in their openness and possibility of redefinition. Such photographs, with the articulation of an idea as an architectural joint, do not accustom the world to an image, but repeat the fragments of reality and us as part of that reality. Their purpose is not to show the whole building and every detail of it in each of the conditions, but to highlight or construct its essence - the idea. In this way, like architecture, they teach us to look, and of course it is true that seeing what they show us ultimately depends on ourselves." (from chapter Instead of conclusion)



+
Colomina, B. (1996). Privacy and Publicity: Modern Architecture as Mass Media. London: The MIT Press.

// The published fragments and the book represent a master's thesis which I prepared at the Faculty of Architecture, University of Ljubljana under the mentorship of ddr. Petra Čeferin and Uroš Abram.